GK: David Juran
One position we have been blessed is our goalkeeper. Jirka Floder had a brilliant season before returning to Zbrojovka, Martin Doležal was a safe pair of hands in his two seasons with the club and David Záleský has been great whether in goal or playing in attack for Blansko. However, we can pick only one and we've gone for David, just purely based on his performances between the sticks over a number of years.
Commanding, calm and a great shot stopper he made the job look very easy at times. Still hugely popular with the Klobása. Now at friends of the blog, Slovan Rosice.
Song : We all live in a Juran submarine
RB: Petr Gromský
With the greatest respect to anyone else who has filled the role and enjoyed success with us, there was never going to be any competition for this position. A man with a hundred songs and probably never knew he was working in a cocktail bar.
Petr rose from playing Blansko regional football to becoming a regular in our MSFL team and will always be one of our favourites. A name that could fit any song, we still miss his energy on the flanks and ability to adjust to any level of football. He still plays for his local side up in Rudice and we plan to make up a trip up there in the spring. Just to sing, like.
Song(s) - Don't you want me Gromský, Gromský's on fire, A ship called Petr Gromský (Dignity) and many, many more.
CB: Jakub Šplíchal
I think we've seen Jakub play in defensive positions, initially as a central midfielder and later as a centre back. Like many of our favourites, started at the club as a youngster and later captained the club through a very difficult period. We're also big fans of his wife Bára, who was once the club photographer and just like the main man, she was always a happy face at home and away games.
Song : We've got Šplíchal, Jakub Šplíchal…
CB: Standa Píšek
We can never forget his big smile as we sang his name for the first time against Zlín B after he notched his first goal for the club. The scorer of some superb own goals in his one season with us, we remember Standa for his loud booming voice, a superb communicator and a good reader of the game, it's been no surprise to see him step into management. A giant of a man on and off the pitch.
Song : There's only one Standa Píšek, he's so very tall, he can head any ball.
LB: Martin Sedlo
It may come as a surprise, but in our successful (half) season in our promotion to the F:NL, Martin was our top scorer which is no mean feat for a defender. After a nasty injury and a loan spell at MFK Vyškov, he returned to Údolní to… score more goals in the second tier of Czech football from… defence. Hugely popular, his all-action style ensured he became a firm favourite with all Blansko fans.
Song : Oh Sedlo, Oh Sedlo, running down the wing.
RM: Dominik Šmerda
It tells you everything, when just last weekend we had a friend of the Klobása from Australia travel to Údolní to watch Domi Šmerda play, only to be disappointed to find out he'd left the club two years ago.
His selflessness, willingness to carry the ball and his eye for a creative pass, made him one of our favourites and possibly the most under-rated of our picks.
Song : Wooaahh, we've got Domi Šmerda, woooahh, he gets away with murder...
CM: David Bednář
We have heard Bedo described as a legend of Blansko football and it's not hard to see why. Scorer of goals and great goals at that, there were times he left you wondering why he wasn't playing at the highest level. You can always tell a top footballer by the way they run and David just glided across the football pitch. We only wish we'd seen him at his prime in a Blansko shirt, such a graceful player.
Song: How do you sleep when Bedo's scoring…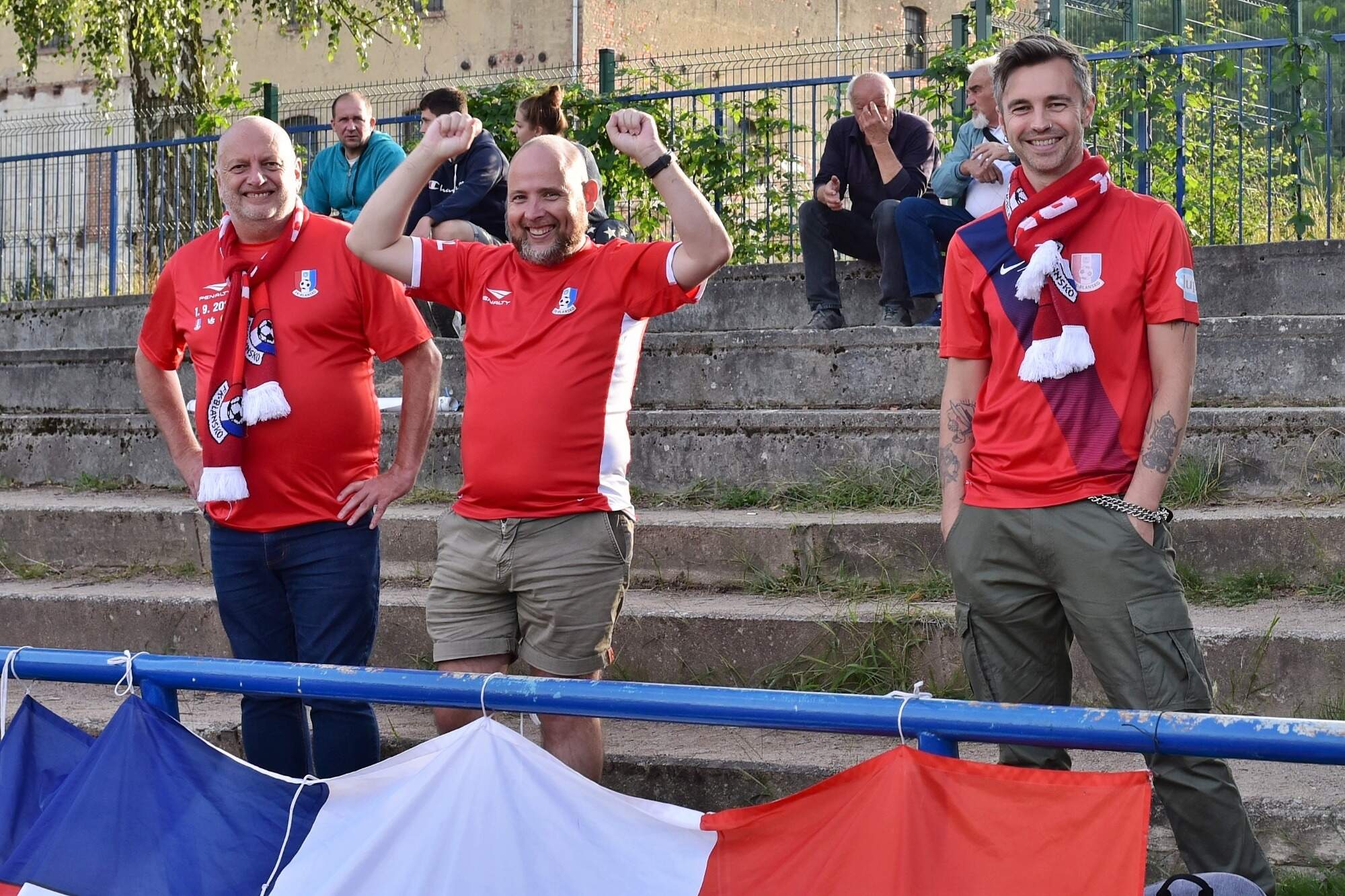 CM: Lukáš Lahodný
We hardly got much of a chance to watch Lukáš play, but from the moment he wore the Blansko shirt it was love at first sight.
His vision, passing range and his ability to get a yellow card made him an instant favourite for all of us. No surprise to see him back in F:NL this season with Vyškov and although we didn't get to enjoy Lukáš on the pitch, he left us with some great memories.
Song : Lukáš Lahodný, tra la la la la
LM: Filip Žák
Although not his true position we had to find a place in the team for Zaky. Holder of our first "Player of the Season" award, he lit up the FNL with his sheer hard work and eye for goal and it was no surprise to see him interest both top league and second tier teams at the end of last season.
Scorer of some very important goals and our top of the goalscoring charts in what was and will probably be our only season in professional football.
Song : Ole, ole,ole, ole, Filp Žák Žák Žák.
CF: Jan Trtílek
Honza really is a legend for us. He made his debut in the 5th tier as a teenager and rose to the MSFL, scoring our first goal back in the third tier. Hugely underrated and spent a long time struggling with injury, when he was on the pitch, his vision, eye for goal and just his superb link up play with Jan Koudelka makes him an easy choice for us.
We often wonder how far he could have gone with a little more pace and better luck with injury.
Song : Honza, Honza, Honza, Honza, Honza.. Honza, Honza Trtílek.
CF: Jan Koudelka
Honza gets in just for his partnership with the above mentioned Honza. That season they spent together brought the best connection we've seen between our strikers. Another scorer of some fantastic goals, we were not surprised to see him make it all the way to the top with Zbrojovka Brno. Not always the happiest player on the football pitch, he should know he made a lot of Blansko fans smile with some pure genius in front of goal.
Song : Goldelka, Goldelka, Goldelka,
Manager: Zbyněk Zbořil
We've had two great managers at Blansko. Michal Kugler and Zbyněk Zbořil. For us it was close, but there can be only one winner and that's Zbyněk. Another one with a big smile and welcome for all of us, whether at Blansko or elsewhere, made going to home and away games so much more fun. And of course under his leadership we saw two promotions in two seasons. Nothing makes us happier than to see him at MFK Vyškov, in professional football and all this at his home ground in Drnovice.
Song : Zbyněk Zbořil's Red and Blue Army
Top fan: Pavel Starý
We miss Pavel. He started this journey for us by welcoming us to the Blansko Fun Club, by allowing us to sing our stupid songs and just by being that the welcoming chap on the terrace. His support for the club, his tuneful banging of the drum and his love for the club is one of the reasons why we kept going. Needless to say we still hope he will return one day.
Song : Pavel, Pavel, give us a wave
Substitutes:
Okay, so apologies must start here. First of all there are many, many players who could have made it into our eleven.
Radek Buchta for his leadership and qualities on and off the pitch, and the same could be said of Jiří Huška, wonderful captains. We think both of them will become top, top, managers. Mo Traore, Guy Reteno, Marek Mach and Jirka Tulajdan have been unplayable at times and have allowed other players in the team to flourish. They could easily be in the top eleven.
Tommy Vasiljev, not only a talent on the pitch, but for being a great person and someone you can talk to about anything. With that, the same could be said of David Klusák. It's a real shame we only got to see them for one season.
Wingy wanted to include Tomáš Feik as he taught him at nursery school and I am sure we'll find a place for him in the future. Another local boy, Štěpán Alexa is also destined for bigger and better things if he continues to work hard..
Just the substitute bench tells you how hard it was for us to do this. So many players have brought happy memories to The Blansko Klobása over the last ten years, not just for what they have done on the pitch, but just for being great people. And finally talking of great people, no Blansko team would be complete with a mention for the one and only Saša the physio, who is without question the man who keeps the club together and also possesses the most potent slivovice you will ever taste. Na zdraví, Sašo!
Here's to the next ten.
Forza Blansko.